Grammy Award Winner Ani DiFranco's alchemy of folk, soul and lushly textured jazz-pop reflects a musical career forged one degree of separation between Pete Seeger and Prince. Her poetic lyricism drives the message while her most powerful gift as an artist remains her rare ability to give voice to our deepest frustrations and tensions, both personally and politically. She has always spoken her mind and gone her own way even in the release of her 22 albums, all under her own label, Righteous Babe.
DiFranco states, "My songs have always reflected an acute connection between my personal life and the life of society." DiFranco's latest album, Revolutionary Love, was released January 29, 2021 and is said to reveal, "DiFranco's tremendous gift for seizing the moment of performance and transforming confusion into clarity, pain into perseverance."
Ani DiFranco is a nine-time Grammy award nominee, having won for Best Recording Package in 2004 with her album Evolve. In 2019, DiFranco released a "coming of age" memoir titled No Walls and the Recurring Dream which made the New York Times Best-Seller list. She also won the 2009 Woodie Guthrie Award, presented each year to the most outstanding book on popular music.
For more information about Ani DiFranco, visit anidifranco.com
Zoe Boekbinder opens.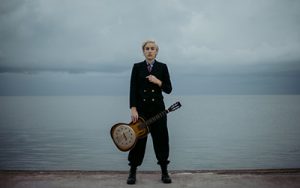 Nomadic at heart and a creator at their core, Zoe Boekbinder (they/them) was born on a farm into a family of four children. While music wasn't very present in their upbringing, Boekbinder recalls some of their first memories as making up songs. For them, music is as natural and as necessary as breath, and the way they engage as an activist. Boekbinder was raised, in part, by their grandfather — a Holocaust survivor. Having survived the horrific, prejudiced violence of his past, he instilled in Boekbinder a deep belief in justice, equality, and anti-racism. Songwriting has become their resistance language, a way to lift up the voices and stories of people who are marginalized by capitalism. 
Using their music as a platform to bring light to stories and voices otherwise unheard, lost or forgotten, Boekbinder continues their empowering work from their hometown in New Orleans, LA, performing both as a solo artist and in collaborations with artists including Ani DiFranco, Amanda Palmer, Spoon Jackson, Jolie Holland, Neil Gaiman, and Mirah.
COVID NOTE 8/11/21:
In light of the growing number of COVID-19 cases in Lycoming County and in accordance with current directives from the Centers for Disease Control and Prevention (CDC), the Pennsylvania College of Technology and the Community Arts Center will be requiring masks indoors for everyone regardless of their vaccination status. This decision will be revaluated every two weeks, beginning August 27, 2021. The decision will be informed by local case numbers, vaccination rates, test positivity rates and the level of spread in Lycoming County. Depending on the review of these metrics, it is possible that even performances after August 27th  may require both a ticket and a mask.
When required, if you do not feel you can attend a performance and wear a mask, please notify the Box Office and we will refund the cost of your tickets. No one will be allowed into the theatre without a mask, so please don't attend if you feel you can't comply with this directive.
Thank you.
Sponsors
2021-2022 Season Sponsor