"Since their first album in 1977, Cheap Trick has consistently put out perfectly polished power-pop and hard rock gems, and that tradition continues on In Another World…All we can do is be thankful for the longevity and endless creativity of the quartet from Rockford, Illinois."  – Associated Press
"Cheap Trick, now celebrating 47 years together, sound as inspired on In Another World as on 1977's still fresh debut…The album displays the Tricksters cranking out another 45 minutes of crackling rock and roll that belies the members' age, extensive backstory along with a work ethic doesn't show any signs of slowing down now."  – American Songwriter
Cheap Trick are an indisputable American institution, beloved around the globe since 1974 for their instantly identifiable, hugely influential, brand of pop rock 'n' roll. The band – Robin Zander (vocals, rhythm guitar), Rick Nielsen (lead guitar), Tom Petersson (bass guitar), and Daxx Nielsen (drums) – are true pioneers with an unparalleled streak of certifiably classic tunes, from "He's A Whore," "California Man" and "Dream Police" to "Surrender" and "I Want You To Want Me." After a year of show cancellations due to the pandemic, Cheap Trick began touring once again with the same lineup of the last several years which includes Robin Taylor Zander on rhythm guitar and vocals.
2016 saw Cheap Trick's long-awaited induction into the Rock and Roll Hall of Fame. The induction honored both the band and the pioneering sound that has earned them total record sales well in excess of 20 million featured appearances and more than 40 international gold and platinum certifications. Cheap Trick closed the 2016 Rock and Roll Hall of Fame Induction Ceremony with a show-stealing performance that prompted Rolling Stone to rave, "Their smoking three-song set (was) played to perfection, with Zander hitting all the notes he hit at Budokan back in 1978."
Special Guests – RTZ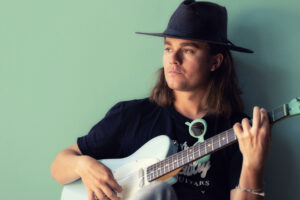 A career in music was inevitable for Robin Taylor Zander. It's in his heart, his soul — and his very DNA. "RTZ," whose father is the founding frontman for iconic Rock and Roll Hall of Fame band Cheap Trick, steps out with his debut solo album, The Distance. A versatile multi-instrumentalist, Robin is now a full-time member of Cheap Trick, a seamless utility player on guitar, bass, drums, and backing vocals.
The Distance is awash in smoothly textured instrumentation and soaring, layered vocal harmonies and pop melodies. Robin melds together the influence of the Beatles and Beach Boys, the Rolling Stones, the Move and the Who and so many others, in a sonic palette that's Robin's own. Writing all the songs and recording guitar, bass, drums, and vocals for his solo debut, Robin reveals his exceptional musical chops, range, and versatility.
Growing up in a house filled with musical instruments, recordings, and memorabilia, Robin's own musical journey goes back to the age of 3, when he got his first ukulele. He graduated to guitar when he was five, followed by drums, bass, and piano, and singing in his school chorus. "When I was little, I would take a record and try to learn the bass part or the guitar part, then the next day try to learn the drum part and piano part. Then I'd sing it and I'd be able to record it in my own."
If there's anything he's learned since picking up that ukulele 25 years ago, it's that there's always something to prove, whether it's in the studio or on stage. As Robin readily acknowledges. "The one thing I know is this is exactly what I want to be doing — and what I've always wanted to be doing."
BAG POLICY effective July 1, 2023 we have updated our bag policy across all events. Small clutch purses & wallets (6.5″ x 4.5" x 1"), clear totes, or (1) one-gallon, zip-close style plastic bag may be carried into the venue. All other bags are prohibited. For more details please visit our FAQs page.

ALL TICKET SALES ARE FINAL. Unless a performance is canceled or rescheduled by the Community Arts Center or the performer, there are no refunds or exchanges. In case of inclement weather, should the performance occur, there are no refunds or exchanges. Should you be unable to use your tickets for any show, you may wish to consider donating them back to the Community Arts Center at least 24 hours before a performance as a tax-deductible gift. Ticket orders may be canceled if, at our sole discretion, it is suspected that tickets are being purchased by resellers. For guaranteed lowest prices, always purchase with confidence directly from caclive.com or the CAC Box Office.
Sponsors
Performance Series Sponsor
Show Sponsors