Frequently Asked Questions
All bags and persons may be subject to search for safety and security reasons.
Small clutch purses & wallets (6.5″ x 4.5" x 1"), clear totes or (1) one gallon, zip-close style plastic bag may be carried into the venue. All other bags are prohibited.
Patrons will be asked to return non-approved bags or other prohibited items to their vehicle prior to venue entry.
An exception will be made for medically necessary items that cannot fit into a clear bag, after proper inspection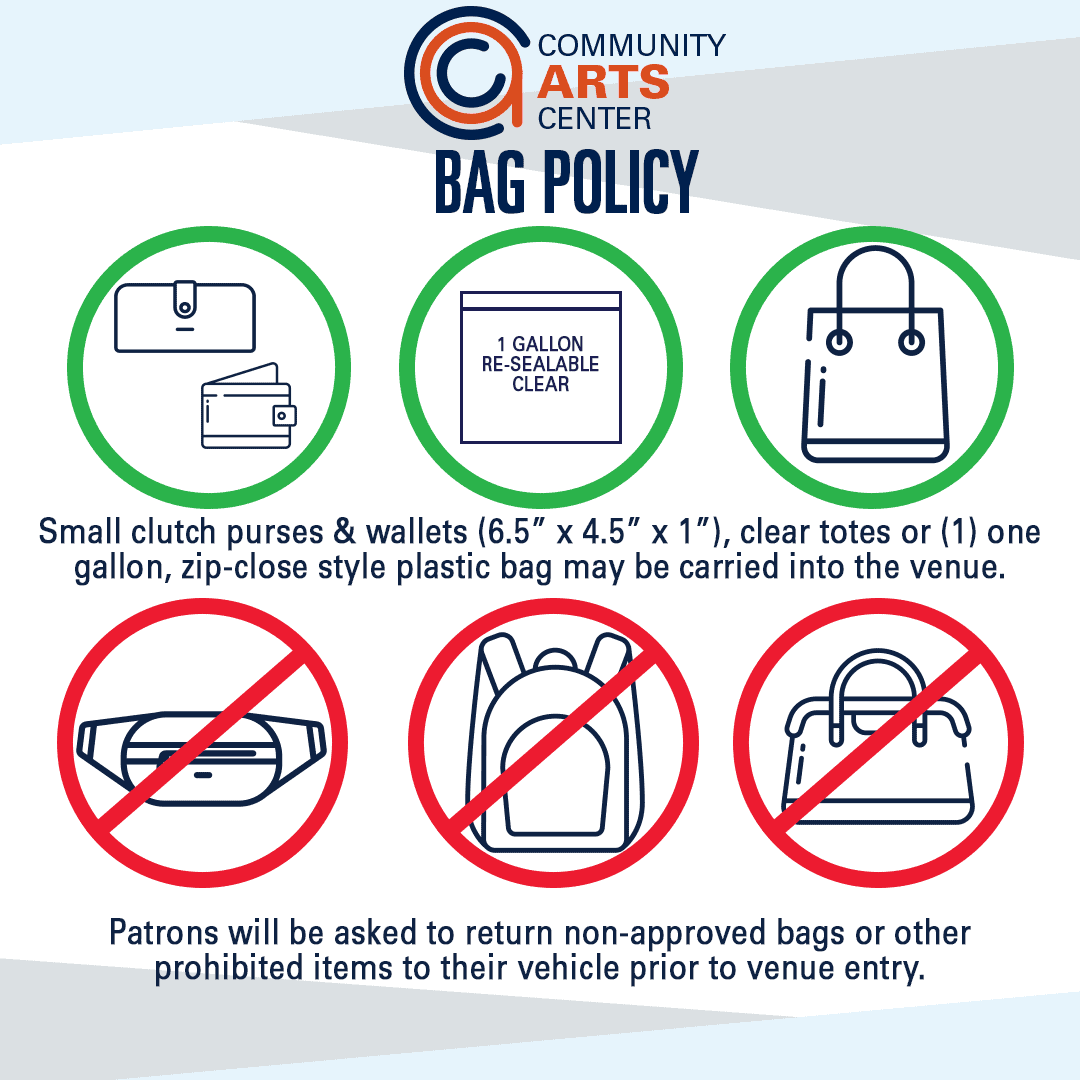 Professional video cameras, monopods, tripods, and professional audio recording devices are not permitted inside the Community Arts Center at any time without prior permission or a press badge. This policy will be strictly enforced.
However, personal cameras are at the discretion of the artist. We often do not find out the artist's photo policy until they arrive at the venue. Typically, an announcement will be made from the stage night-of-show and signage can be found on our digital signage throughout the venue.
The possession, carrying, storage, or use of any weapon, ammunition, or explosive by any person is prohibited on all Pennsylvania College of Technology property (including the Community Arts Center) except by authorized on-duty law enforcement officers, in accordance with Pennsylvania State law. (18 Penn. Stat. and Con. Stat. § 912)
Any item found at the Community Arts Center will be turned in to the CAC Box Office.
Please contact our Box Office at 570.326.2424 or email at boxoffice@caclive.com.
The Community Arts Center is a tobacco-free zone. No smoking is permitted anywhere in the facility, in front of the theater doors or on the Capitol Lounge balcony.
We have a designated smoking area on the western side of the building, near the Sun-Gazette offices, open during performances. To access it follow the signs for the hallways located behind the elevator or ask any of our Staff or Volunteers to help guide you there.
Outside food and beverages, including water, are not permitted in the Community Arts Center. The CAC offers a wide variety of drinks and snacks at the concession stands in the outer lobby and the mezzanine.
For most performances, we also have the Capitol Lounge, located on the Mezzanine, open to the public with a full bar.
The Community Arts Center is located in Williamsport, Pennsylvania, on West Fourth Street, between William and Hepburn Streets. Parking is available throughout the downtown area. For a parking map, CLICK HERE.  Rates for the Garage are below the map. Rates for other locations can be found by CLICKING HERE. Some locations may charge a small fee for parking.
If you are attending an event during working hours, please call ahead to the Williamsport Parking Authority at (570) 323-6476 to see which lot is open for daytime parking.
The Community Arts Center is located between William and Hepburn Streets in downtown Williamsport, Pennsylvania, on West Fourth Street. We are next door to the Genetti Hotel and directly across the street from the Bull Frog Brewery.
Our physical address is 220 West Fourth Street, Williamsport, PA 17701.
ALL TICKET SALES ARE FINAL. Unless a performance is canceled or rescheduled by the Community Arts Center or the performer, there are no refunds or exchanges.
In case of inclement weather, should the performance occur, there are no refunds or exchanges.
Should you be unable to use your tickets for any show, you may wish to consider donating them back to the Community Arts Center at least 24 hours before a performance as a tax-deductible gift.
Ticket orders may be canceled if, at our sole discretion, it is suspected that tickets are being purchased by resellers.
For guaranteed lowest prices, always purchase with confidence directly from caclive.com or the CAC Box Office.
We do not have any dress code. The house can be cool during the winter months and before all patrons arrive so please plan accordingly.
Patrons must be fully clothed during visits to the Community Arts Center. The Community Arts Center reserves the right to refuse admittance or to eject individuals who are not in compliance.
The Community Arts Center has a No Re-Entry policy during events. Guests wishing to return any items to their vehicle must do so before passing through security.
We value your support
Ticket sales pay for less than half of what it takes to keep the Community Arts Center thriving. Please help us flourish with your contribution. If check, pay to Penn College Community Arts Center.
Donate to the CAC