Fred Park
Production Director
(570) 327-7655
fpark@caclive.com
Jordan Miller
Digital Production Coordinator
(570) 327-7658
jmiller@caclive.com
Disclaimer
All items listed below are our current inventory, and are subject to change due being out for repair.
Please check during advance to make sure the items you want/need are available.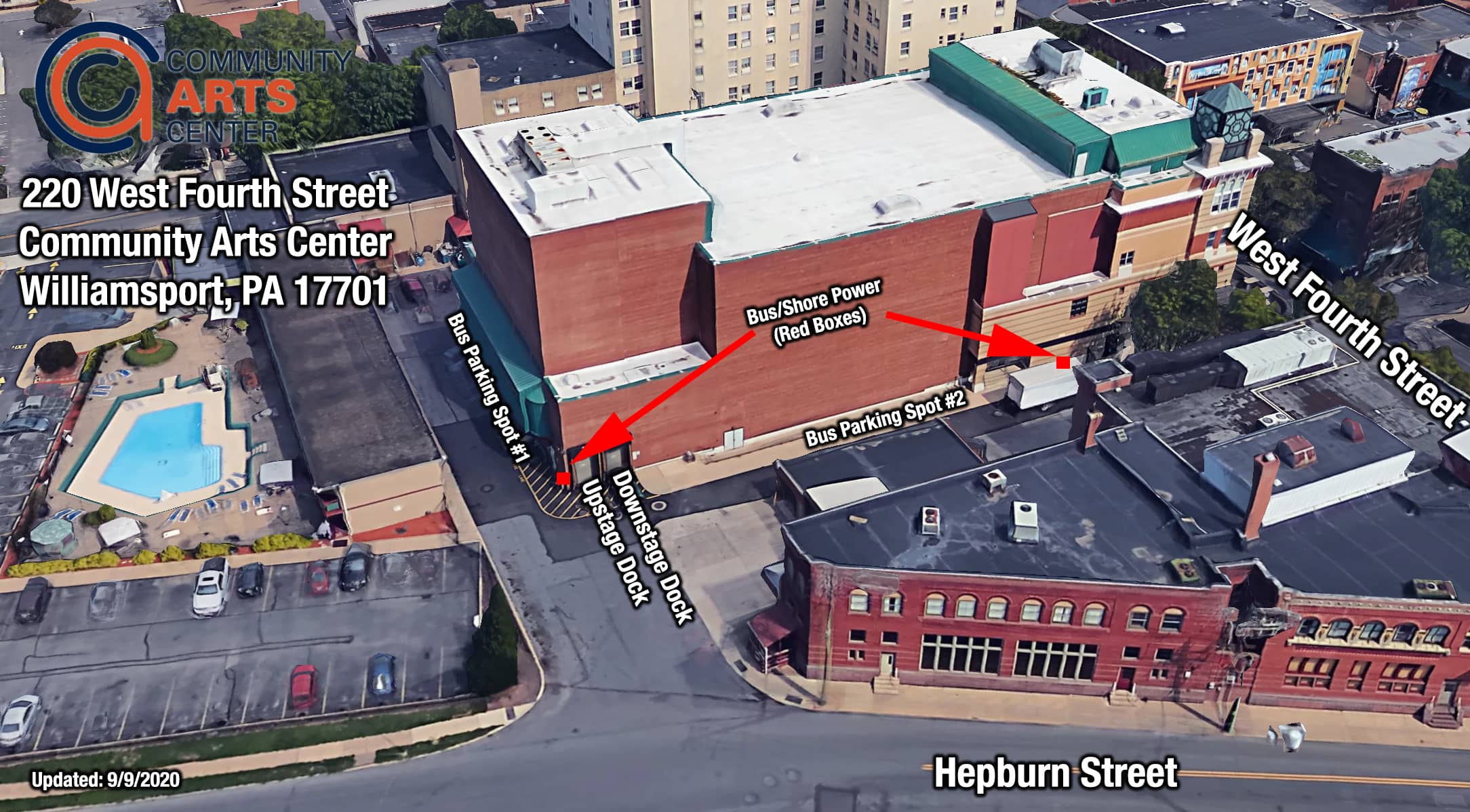 Loading Dock
GPS Coordinates: 41.2408791, -77.0060843
Door dimensions are 7′ 0″ wide x 13′ 4″ high
Dock Location Description
The loading dock is located on the west side of the building at the intersection of Hepburn St and Edwin St. Directly behind the building opposite of the Marquee on 4th St. Edwin St, traveling east, will DEAD END into the CAC loading dock.
Shared Dock Area
The CAC Loading dock is a shared area with the local Sun Gazette newspaper and the neighboring Genetti Hotel. Any load IN/OUT greater than (1) 28' box truck requires advanced coordination between the Arts Center and its neighboring businesses.
Loading IN/OUT Description
CAC docks are not at truck height. Equipment must ramp down from the back of the truck using the house 16' ramp and/or the touring show ramps. Street level (bottom of the truck tires where the rubber meets the road) is 16″ above stage level. The dock area can accommodate (2) two trucks side by side at the same time. The preferred dock is the DS/South dock, it has a hydraulic platform lift that travels from stage level to truck height. The gap between truck and platform lift (approx 2') is normally bridged manually with a dance floor ramp. CAC has (1) one dance floor ramp in house. Both CAC Dock doors are overhead rolling door on electric motors with chain backups. The US North dock does not have a lift. There is also entry 2 step backstage door entry platform that obstructs the US side of this door.
Sound Console:
FOH – Avid Venue SC48 (48 by 16)
Pro Tools 12 with 32 Channel Recording (Upon Request)
Monitor – Midas M32 (32 by 16)
Digital Snake – Midas ML32
Audio Snakes:
46 by 10 Audio Split Snake (FOH, 20′ tail DSR)
32 by 8, 150′ Sub Snake
16 by 4, 150′ Sub Snake
Two (2) – 7 Channel Sub Snakes
Playback:
Technics Dual CD Player with DJ Control Module
Cluster (Center Vox Mix):
Four (4) Bose LT-9403
Two (2) Bose MB 24 Subs
Four (4) Bose DS-40SE Front Fills
Stereo (L/R Mix):
Four (4) Bose MA 12 Line Arrays
Two (2) Bose LT-9403
Four (4) Bose MB 12 Subs
Four (4) Yorkville LS800P Sing 18″ 1500 Watt Powered Subs (Upon Request)
Monitors:
Six (6) – JBL JRX 212
Four (4) – JBL PRX815
Accessories:
Ten (10) Tripod Boom Stands
Four (4) Round Base Straight Stands
Assortment of Short Straight/Boom Stands
Intercom:
Two Channel Telex Intercom
• Ten (10) Wired Stations
• Six (6) Wireless Stations
Miscellaneous:
Program Monitoring
Paging Capability to Dressing Rooms, Bathrooms, Production Office, and Green Room
Wired Microphones
AKG c900 – qty 4
AKG 414B – qty 1
Crown PCC160 – qty 4
Shure SM57 – qty 4
Shure Beta 58 – qty 4
Shure SM81LC – qty 2
Shure MX202 Microflex – qty 4 – Hanging Microphones (30′ tails to transformer)
Shure MX412s – qty 2 – Podium Microphone
SHS Drum Mic Kit – qty 1 – Kick, Snare, Three Toms, Hi Hat, & Two Overheads
Wireless Microphones
Shure ULXD4Q Wireless Receiver – qty 4 – 16 Channels Total
Shure ULXD2 Handhelds – qty 8 – Beta 58, Beta 87a, or KSM9HS Heads
Shure ULXD1 Body Pack – qty 16 – WL93 Microphone
PIano\
Steinway D
Working Line Set Schedule
Company Switches Four (4) Total:
One (1) at 400A – 3 phase. – DSR, Polybox type and use Cam-Lok connectors
One (1) at 200A – 3 phase. – DSR, Polybox type and use Cam-Lok connectors
One (1) at 100A – 3 phase service, bare lead tie-in. – DSR
One (1) at 400A – 3 phase. – MSR, Polybox type and use Cam-Lok connectors
Console:
ETC IonXe 20 (2048 Output), 20 Faders, plus a 40 Fader Wing add-on.
Dimmers:
384 2.4k ETC. L86. Located in the dimmer room DSR.
All theatrical circuits are 20 amp with stage pin (3 pin) connectors.
Accessories:
(8) side boom poles & heavy bases. (Various lengths)
(6) 20′ Socapex with stage pin break-ins and break-outs
(2) Five pin DMX dry lines from FOH to DSR.
(2) Cat5e dry lines from FOH to DSR.
House lights control via 16 channels of DMX, upon request.
Fixtures:
ETC Source 4 – 19 Degree – 750 Watts – qty 24
ETC Source 4 – 26 Degree – 750 Watts – qty 34
ETC Source 4 – 36 Degree – 750 Watts – qty 34
ETC Source 4 – 15 to 30 Degree Zoom – 750 Watts, Box Booms – qty 20
ETC Source 4 – 14 Degree – 750 Watts, Front Cove Lights – qty 8
ETC Source Four Par – 575 Watts, Very Narrow, Narrow, Medium, & Wide Lens Available – qty 64
Chauvet Ovation Rêve E-3 w/15°–30° lens – (12 Channels DMX Control per) – qty 34
• 16 Installed in the Cove Position
• 8 Installed at Box Boom Position
• 10 available for stage use
Altman Par 64 – 1000 Watts, Medium & Wide Lamps – qty 12
Altman 2 Cell Cyc Unit – 1000 Watts (Each Cell) – qty 12
Altman Blacklight UV 703 Fresnel – 5 Minute Warm Up Time – qty 2
Altman MR-16 Borderlight/Striplight – 3 Cells, 6 Dimmers for minimum use – qty 4
Martin Quantum Profile – 450 Watt LED (27 Channels DMX Control per) – qty 6
Chauvet Rogue R2X Wash – (21 Channels DMX Control per) – qty 12
Look Solutions Unique 2.1 Hazer – 2 Channels DMX Control – qty 2
Chauvet Impulse 648 LED Panel – 2 Channels DMX Control, 6500K – qty 4
Snow Machines – Remote Control, NO DMX – qty 2